By Eriya Khongsuwan & Phoebe Heather Law
We, Eriya and Phoebe, had the opportunity to lend a hand as interns in the Kuala Lumpur Youth Literary Arts Festival 2022 (KLYLAF). This vibrant event took place last month from the 24th to 26th of June and it receiving much recognition and praise from the general public is a great pride of ours.
We realised that there are often discouraging stigmas surrounding these kinds of careers as budding writers ourselves, but we believe this festival could demonstrate itself as a medium in educating more people on what the literary arts actually entails. We were eventually proven right through the various events held, especially the artists panels that have allowed many to grasp the flexibility and advantages a career in the arts requires.
Throughout the 3-day event, special featured live shows wowed and impressed the audience in more ways than one. From the Opening Show, Saturday Night Live, and the KLYLAF Poetry Slam, the fantastic display of literary prowess from our local, homegrown artists demonstrated the wealth of talents as well as liveliness of the literary and performing arts scene in our country.
From seasoned and experienced spoken word poets such as Jack Malik, Azizan Afi, Sheena Baharudin and Illya Sumanto, to emerging artists such as Effa Qamariani, Qiao Se, Isaac Tan, Rozhana Azra, Kanchana Sirikit, Ho Jia Wen, Ong Yu Qi and many others, all of them taught the significance of courage in creative expression. Especially coming from two people who need mental rituals just to press the publish button for our own works online, their bold performances of their beautiful pieces inspire and motivate both of us to improve in this particular aspect.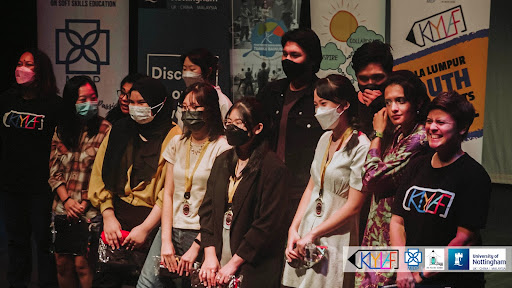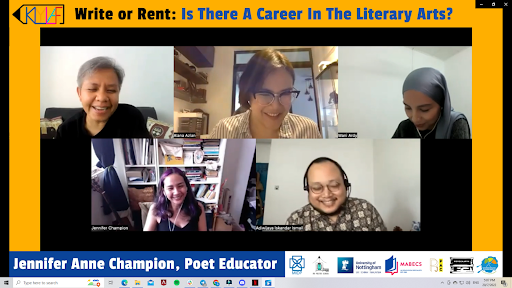 One of the artist panels, 'Beyond Publishing: How do Poets & Playwrights Get Their Work Seen & Heard?', provided insightful tips towards getting one's work noticed by learning from the unique journeys these inspiring artists took in their careers.
However, the other artist panel entitled 'Write or Rent: Is There A Career In The Literary Arts' elicited a strong response from within me, Eriya, a student who is pursuing a career in the literary field. I appreciate the brave and inspiring sharing session from the panellists on the sacrifices they made to pursue their dreams, as well as what they did to overcome those challenges.
Entering the artist panel call, I came to understand that every artist traverses through different experiences and had various opportunities that got them to where they are currently standing. It became clear that no journey is easy, but as long as you believe in yourself and know what is right for you, then you are already on the right track.
One of the most satisfactory parts of the event was witnessing the turnout in the artist panel. It was a great reminder that the collaboration and work I did as an intern paid off. This panel gave participants the opportunity to discuss and learn of the possibilities they are able to take on in their writing career. This became more solidified by the many questions posed during the Q&A session as it showed me just how important it is to shed a light on the literary scene in Malaysia as well as be aware of a career in the literary arts as valuable and valid career options.
A related instance allowed me, Phoebe, to reflect on my role as one of the copywriter interns for the festival: in particular, my work on the unique captions for KLYLAF's Flash Fiction Competition which took place about a few weeks before the festival itself.
Not only did I get to read the participants' lovely work and write engaging captions for them, but also came to realise the same idea conveyed in the aforementioned artist panel: the importance of pursuing one's dreams and journey in writing. Whether one is a copywriter, flash fiction writer, or article writer, all writers pursuing this type of career aim to explore and experiment with their work and thus, share this passionate spirit with others.
As I am still seeking to improve my writing skills and capabilities, this even opened my eyes to how I can connect with other writers as a team. Not only did I get the opportunity to collaborate on copywriting the social media captions, but also with those interns who were carrying out similar tasks such as designing content for social media.
The experience we, Phoebe and Eriya, had as interns – our first time contributing to such a successful festival – was made more valuable with the guidance received from the rest of the passionate KLYLAF team. This includes Emellia Shariff, CEO of MIDP and Elaine Foster, Founder of MY Poetry School who together designed, planned, curated, and produced this year's festival. A special mention also goes to MIDP's own Amy Suhana for doing such a great job in managing the event alongside the team of interns from University of Nottingham Malaysia. With this newfound understanding of the festival's behind-the-scenes, we grew to truly appreciate the process of promoting the literary arts scene and its artists' work!
Beyond being entertaining shows, we as interns who had the privilege of taking part in the behind-the-scenes process of this festival – believe KLYLAF has ultimately provided remarkable opportunities for learning and development on the literary arts scene in Malaysia! It is nearly impossible to wait for what is in store next year when the festival will be sure to return, bigger and better. Thank you KLYLAF!