The Kuala Lumpur Youth Literary Arts Festival is a literary and performing arts festival especially for young and emerging writers, arts educators and performers. The Festival is a platform for young people to inspire young people, while creating opportunities and exchanges for youths who are passionate about plays, drama, spoken word and storytelling.
The festival aims to support the development of young writers and performers while platforming emerging talents and creating opportunities for collaboration, performance and building a sense of community, especially for those who have no or little access to the mainstream scene. Through engaging, educational and interactive activities, the festival also hopes to promote literary and performing arts education to the Malaysian youth.
Founded in 2022, the inaugural festival is organised by the Malaysian Institute for Debate & Public Speaking (MIDP) and MY Poetry School, with the sponsorship from the School of English at the University of Nottingham Malaysia with additional support from MABECS.
OPENING SHOW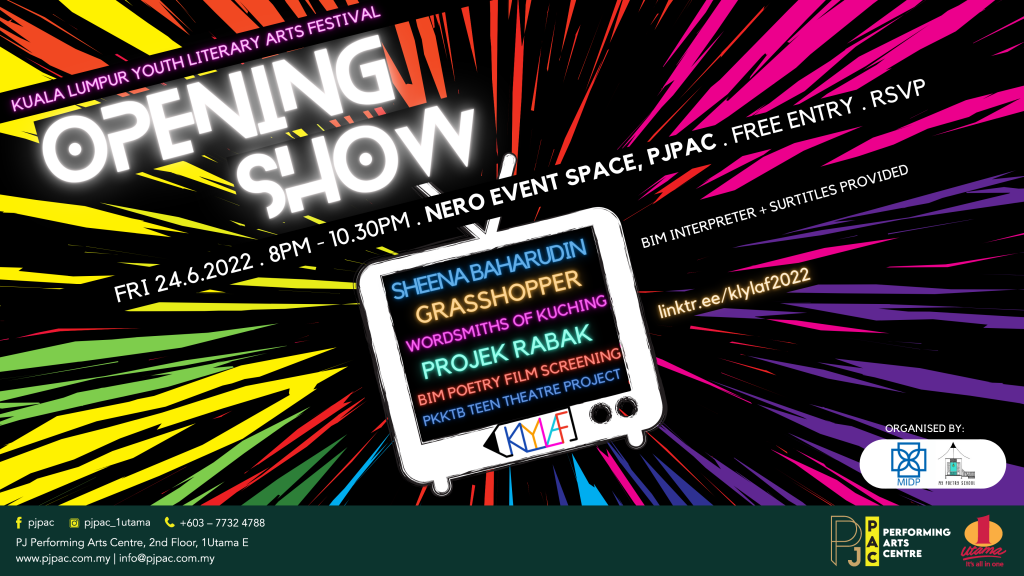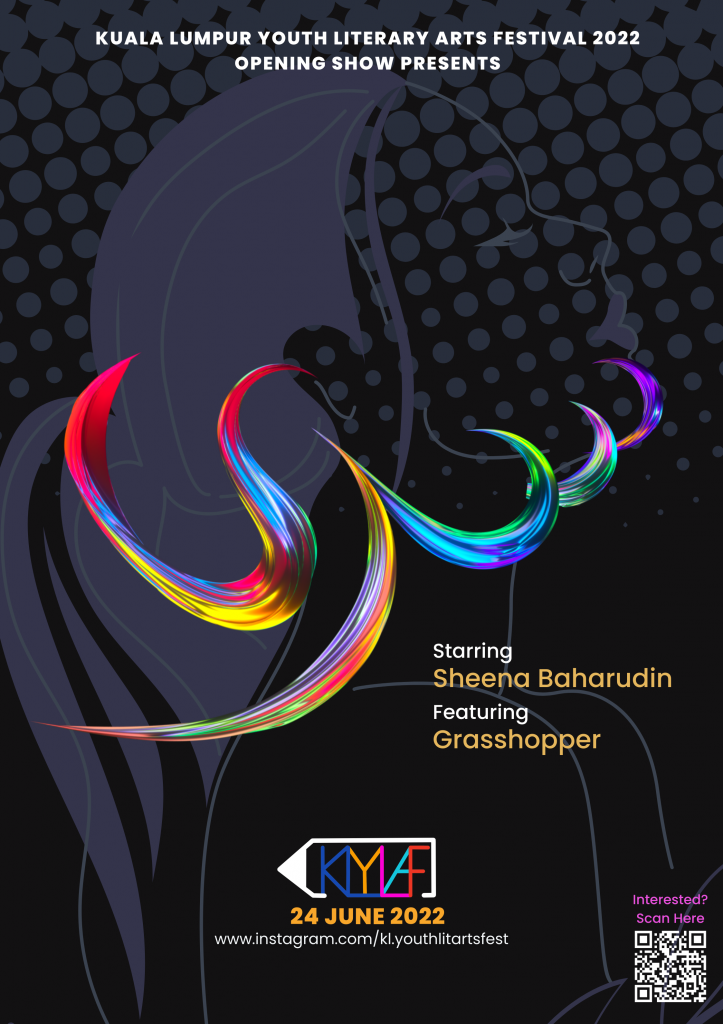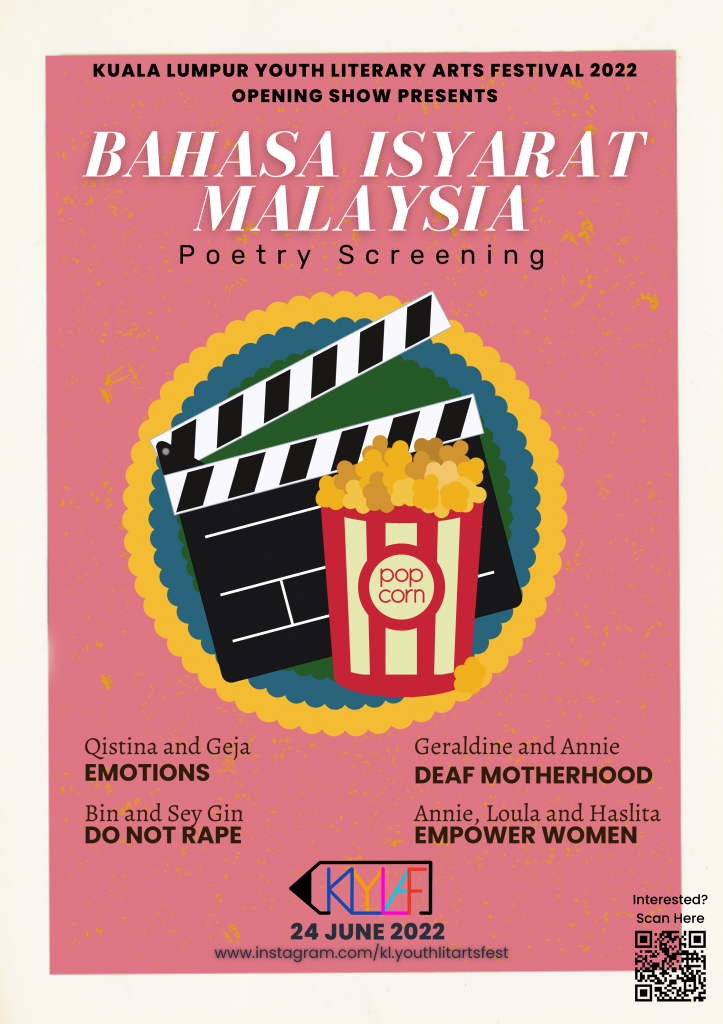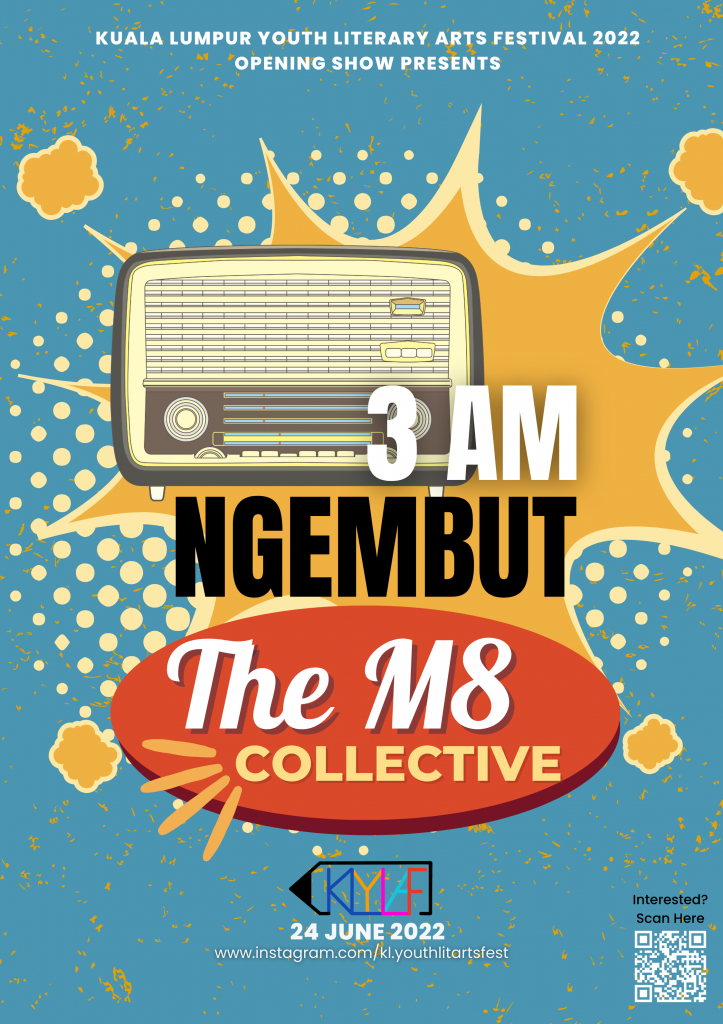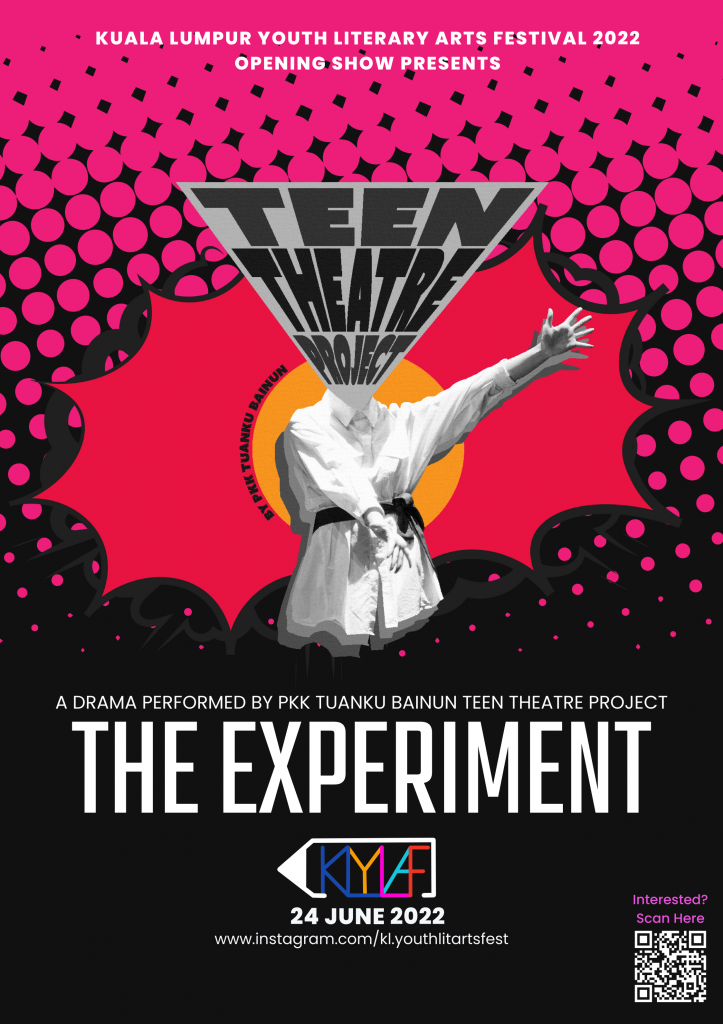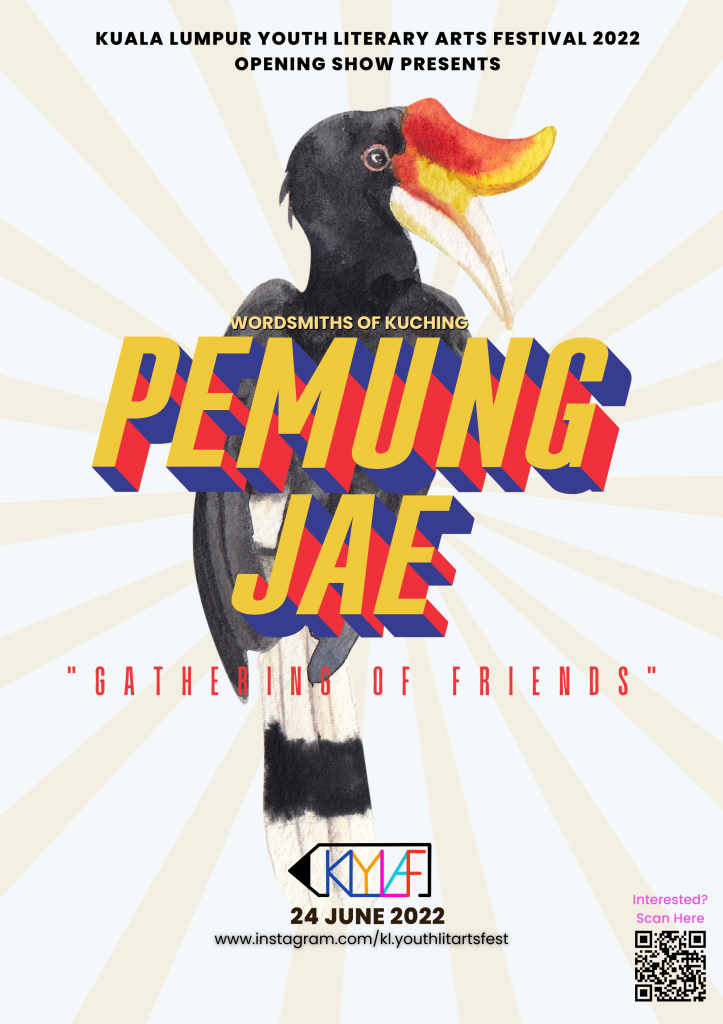 Date: Friday, 24 June 2022
Time: Exhibition, Booths & Networking: 6pmShow: 8pm
Venue: Nero Event Space, PJPAC, 1Utama, Petaling Jaya

Performers:
1. Sheena Baharudin featuring Grasshopper
2. Wordsmiths of Kuching
3. Projek Rabak
4.Bahasa Isyarat Malaysia BIM Poetry Film Screening
5. PKKTB Teen Theatre Project
WORKSHOPS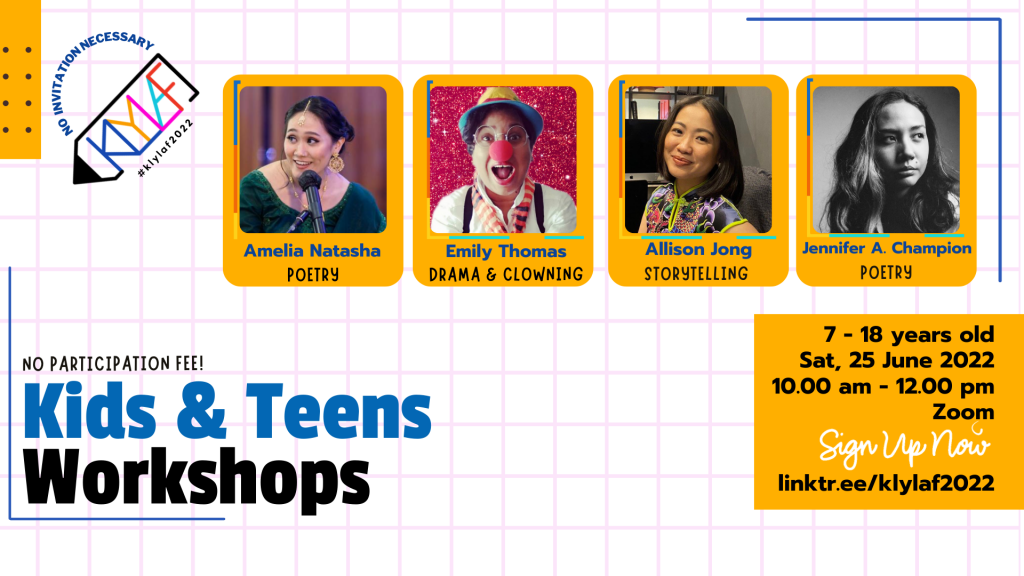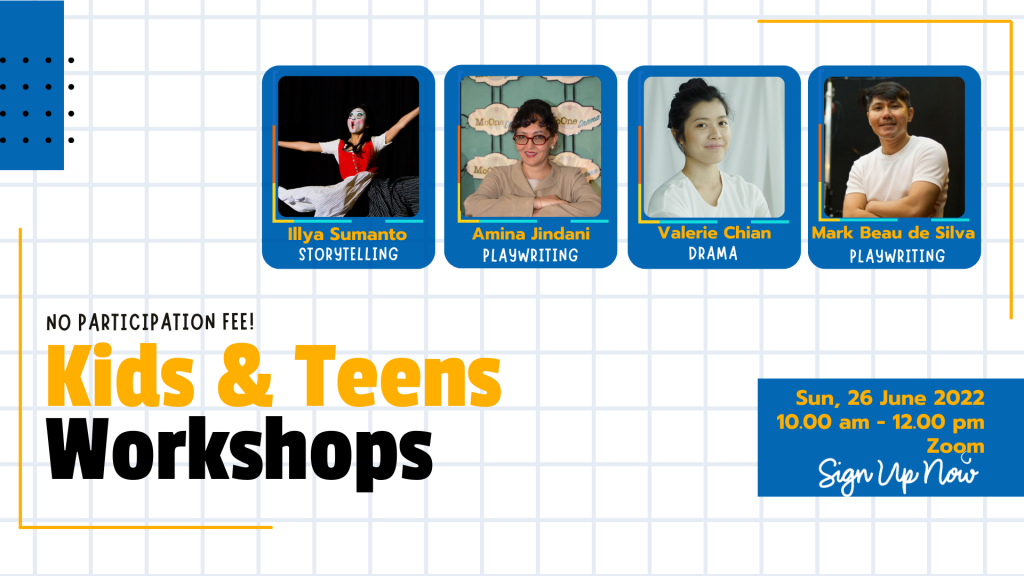 Need an invitation to make your mark in the literary arts scene? Nope, not necessary! Join our workshop as we hear awesome stories from some of the most influential youth artists and educators! Participate in fun-filled writing activities and get inspired on how you can channel your passion at an early age!
ARTIST PANELS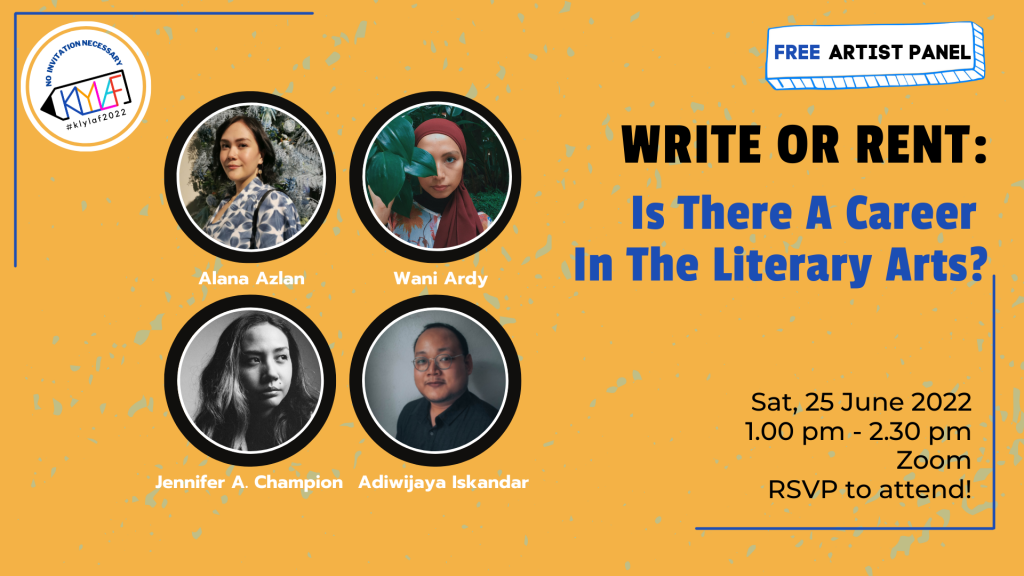 To write or to pay rent? That is the question! Drop by our panel where some of Malaysia's most talented and well-esteemed writers and artists ponder this long-lasting debate in the literary arts scene! The answer may surprise you!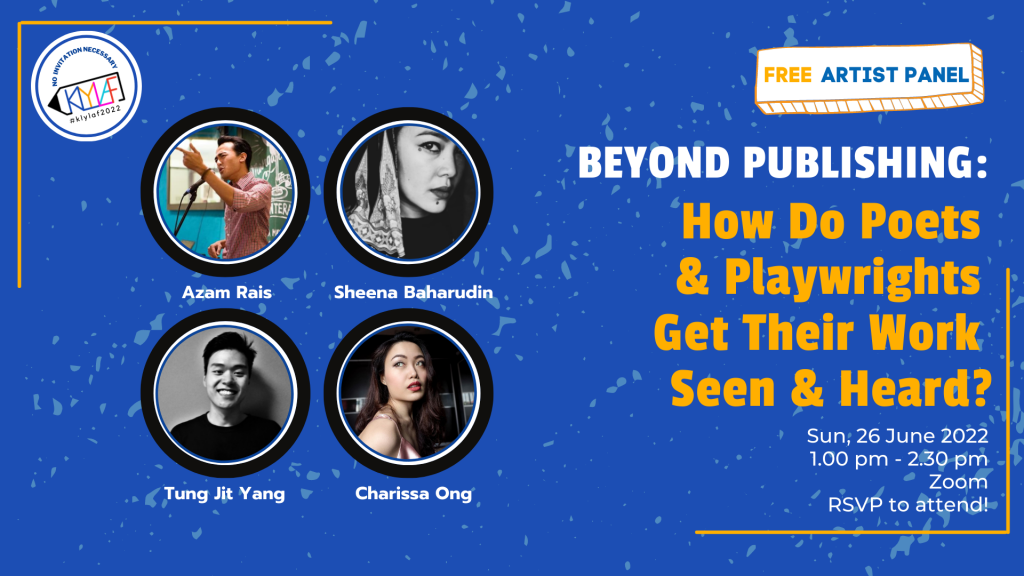 In our second Artist Panel session, the voices of scriptwriters and poets merge into one as our inspiring and multitalented panel talk about their experiences within the local and international literary scenes.
ARTIST MENTORSHIP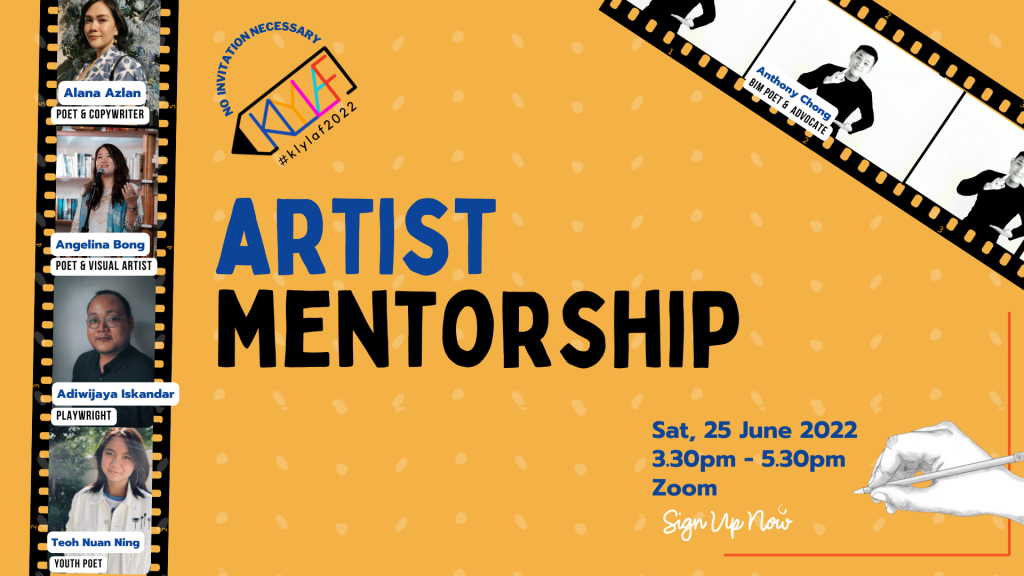 Mentors:
1. Alana Azlan (Poet & Copywriter)
2. Angelina Bong (Poet & Visual Artist)
3. Adiwijaya Iskandar (Playwright)
4. Teioh Nuan Ning (Youth Poet & Orator)
5. Anne Laura Benedict (Full Time Sign Language Translator & Freelance Artist Cum Illustrator)
SATURDAY NIGHT LIVE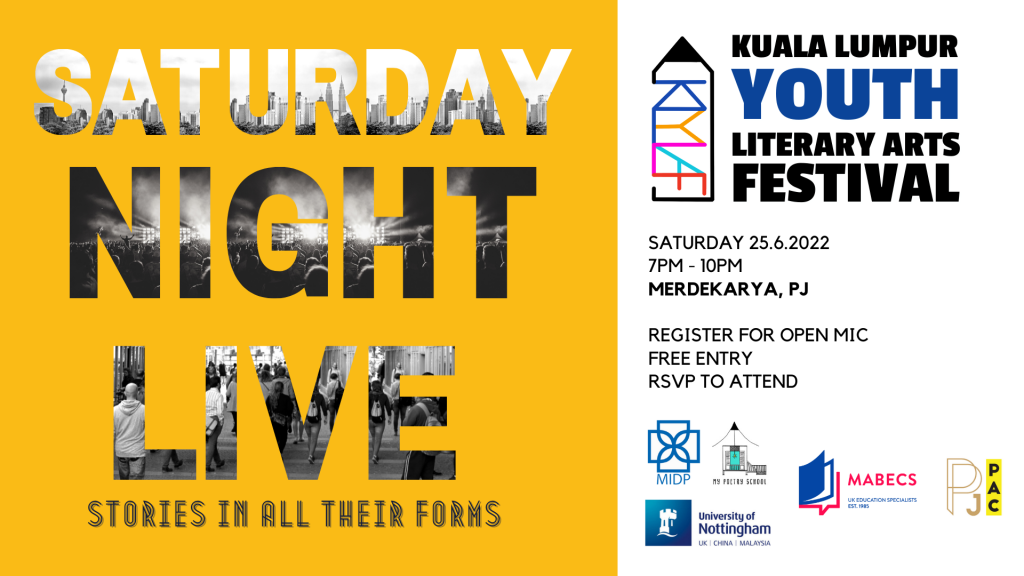 Date: Saturday, 25 June 2022
Time: 7pm – 10pm
Venue: Merdekarya, Petaling Jaya
Eligibility: Anyone residing in Malaysia 18 years old and above
KLYLAF POETRY SLAM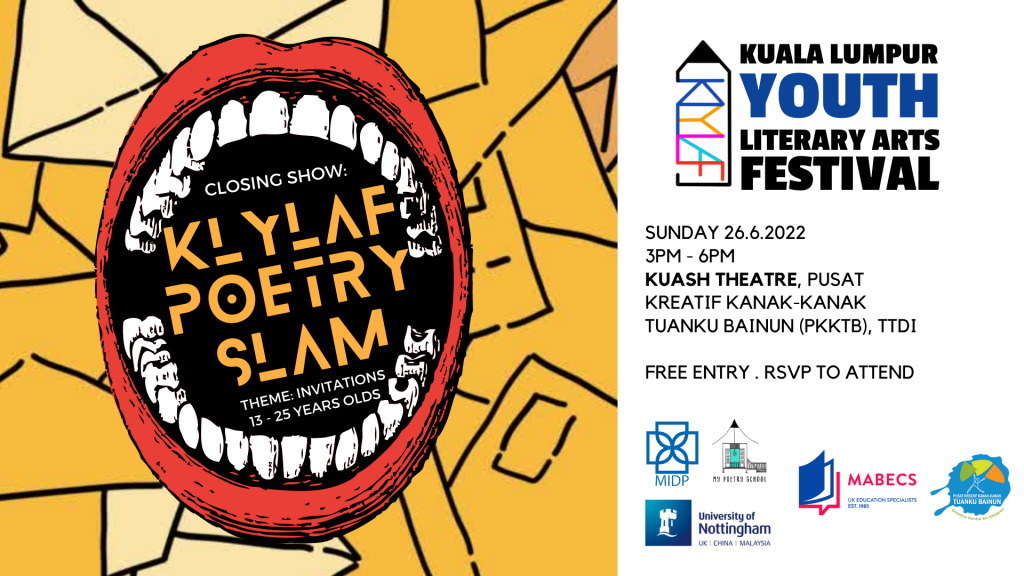 Date: Sunday, 26 June 2022
Time:
Exhibition, Booth & Networking: 2pm
Show: 3pm – 6pm
Venue: KUASH Theatre, Pusat Kreatif Kanak-Kanak Tuanku Bainun, Taman Tun Dr. Ismail, KL
Eligibility: Anyone residing in Malaysia between 13 – 25 years old